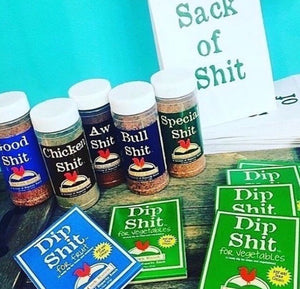 Shit Seasonings #BCR102
Regular price
$14.50
$0.00
Aw Shit is specially blended for those who want to put a little zip in their doo-da. With a hot combo taste of Mexican meets Cajun, this seasoning provides just the right about of kick to make you say "Aw Shit!"
Bull Shit is the finest steak seasoning to ever grace a pantry. No Shit.
Chicken Shit is the seasoning designed especially for chicken! This ain't the same herbs and spices the fat man in the white suit uses; this is so much better! Chicken Shit is guaranteed to produce the juiciest, most succulent chicken imaginable. No matter how you prepare your poultry, Chicken Shit will bring out the best of the bird. This is for one jar of Chicken Shit Seasoning 

 Good Shit will add just enough sweetness to leave your taste buds dancing. Try it on Teriyaki, popcorn (for that sweet and salty taste) ribs, chicken - Shit, put it on everything. But be forewarned, Good Shit is habit forming.
No Shit was developed as an all-purpose seasoning to enhance the flavor of beef, pork, chicken, vegetables, and eggs.  Who could have imagined that a product without sodium could taste this good? Well folks, this just proves that we really know our Shit around here.
Bad Ass Shit
---
Share this Product
---
More from this collection